Breaking News and Live Updates: Deaths at aged care home; Melbourne influencer under investigation for flouting lockdown; Russia vaccine enters manufacturing stage; Diners put on alert in NSW – 9News
Scientists say vaccines are our most effective tool in combating infectious diseases, preventing six million deaths every year. Numerous studies have proven that they are safe. Dr Anthony Fauci, the top US epidemiologist, said that widespread uptake of a coronavirus vaccine could end the pandemic and a study in The Lancet medical journal found that it was the only way to fully end lockdowns.
Yet an Associated Press/NORC Center for Public Affairs online poll from May indicated half of Americans would hesitate to take or refuse a vaccine, and a study by King's College London last week found similar results in the UK.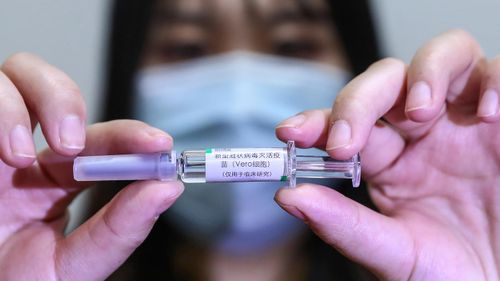 A staff member holds up a sample of a potential COVID-19 vaccine at a production plant of SinoPharm in Beijing. (Associated Press)
The polling varies. A CNN poll from May found two-thirds of Americans would personally try to get a vaccine if one were widely available at a low cost.
Preliminary results of a 19-country survey by campaign group Convince (COVID-19 New Vaccine Information, Communication and Education) show that about 70 per cent of British and US respondents would take one, according to Scott Ratzan, co-leader of Convince and Distinguished Lecturer at City University of New York School of Public Health.
Yet the ultimate goal of vaccines is to create herd immunity, meaning that enough of the population is immune to make the spread of infection rare. A vaccine could be 70 per cent to 75 per cent effective, Dr Fauci said in June, but if only two-thirds of the population were vaccinated, it is "unlikely" that herd immunity would be achieved.
Neil Johnson, a physicist at George Washington University who is studying vaccine skepticism on social media, said this was a "massive issue" — and possibly an even bigger one than the polls indicate.